If you're still on the fence about buying an e-bike, here are some reasons why our customers have chosen to make the switch. If you can relate to these reasons, perhaps an e-bike is the way to go!
The steep upfront price of an e-bike may put some off, especially coupled with the rising cost of electricity in recent times. The rapidly expanding bus and train network has also made public transport a convenient choice for many in Singapore. The 2018 Personal Mobility Device (PMD) ban has also left a lasting impression on many, leading to the common misconception that e-bikes are illegal in Singapore.
Why should you choose to purchase an e-bike then? There are a number of valid reasons why an e-bike may be the best mode of transport for you, depending on your needs and priorities, which explains why so many still own e-bikes in Singapore. Read on to find out why numerous others have made the switch to an e-bike.
1. It's not as expensive as you think
With the numerous installment plans now offered, it is possible to get a brand new 48V Eco Drive 2.0 e-bike at $232 per month, paid over a span of 9 months via ChopNow. Another option would be to opt for a secondhand e-bike for a lower one time payment, or opt for a long-term rental from $15/day.
Apart from the upfront cost of the e-bike itself, many are also concerned about how much electricity the e-bike would consume. Taking the Eco Drive 2.0 as an example, it runs on a 48V 10.5Ah battery, which converts to 0.504kWh. Using the current regulated tariff (as of 6 September 2022) of 32 cents per kWh, charging the battery every day for 6 hours (a full charge), for an entire month will add less than $30 (90 kWh per month) to your electricity bill. This is only for heavy duty e-bike users who discharge the entire battery every day. Using less than a full charge each time would mean that you would only be charging your e-bike once every 2 or 3 days, which would bring the bill down significantly.
On the topic of the battery, every e-bike battery has about 500-700 charge cycles, which means that you can use a single battery for more than 2 years. Our personal experience using the Zebra e-bike has proven this – even after 2 years, the battery is still going strong. This contributes to the relatively slow depreciation of the value of an e-bike. A well-maintained or newly refurbished e-bike can still fetch a reasonable price, should you choose to sell one after using it for a period of time.

Additionally, parking your e-bike in any designated bicycle parking is free in Singapore, save the one time payment of purchasing your own bicycle lock.
2. Low maintenance cost
Adding on to the experience of using the Zebra for 2 years, there has not been a need to make any high-value parts replacements, apart from changing the brake pads every 2 months as the e-bike is used everyday. Unlike cars and motorcycles, the maintenance costs of an e-bike are low, and replacement parts are easy to obtain. This makes it especially convenient and suitable for food delivery riders looking to reduce their expenses.
Due to its worldwide popularity, there are numerous guides to maintaining an e-bike to ensure its longevity. Maintaining an e-bike is similar to maintaining a regular bicycle, and is beginner-friendly.
3. No need to break a sweat
The price of a regular bicycle of a similar wheel diameter may cost only a fraction of the price of an e-bike, but using an e-bike will only take up a fraction of your energy. The pedal assist from the electric motor ensures a seamless ride, even upslope. No more fiddling with gears – you will at most be toggling between different modes on an e-bike. Going long distance will no longer be a chore on an e-bike, whether for work or leisure.
4. Keep carbon footprint low
In line with efforts to mitigate climate change, using an e-bike will definitely release less carbon emissions than a motorcycle or car – as seen from the previous calculation on electricity consumption. Though our power plants are still fueled by fossil fuels, natural gas is still cleaner than petroleum. The figure below shows the difference in greenhouse gases emitted by an average person, with e-biking, cycling and walking also taking into consideration the amount of energy needed to travel the same distance.
5. Enjoy riding on roads & PCN
Contrary to popular misconception, e-bikes are allowed not only on roads but also on our extensive park connector networks (PCN). Unlike other vehicles and PMDs that are limited to either of these networks, e-bikes get the best of both worlds. With future plans to connect the island with even more PCNs, the e-bike will be perfect for work or leisure.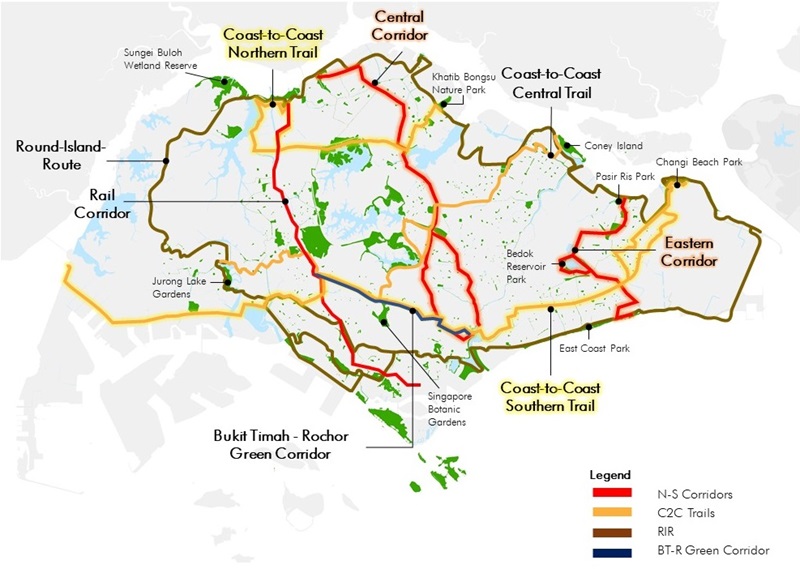 We hope that our blog has addressed your concerns and that you too, will make the switch to an e-bike, just as many others have.
Here are some more of our blogs that can help you make the best decision when buying an e-bike: